Liquid Coatings
PPG's liquid coatings solutions bring durability, beauty and functionality to a broad range of products that span consumer electronics to architectural building components.
From durable solvent-borne coatings to waterborne solutions to fast-curing ultraviolet (UV) and electron beam (EB) finishes, our versatile liquid coatings can meet every coatings challenge.
Our coatings, coupled with global expertise and renowned technical support, make PPG a trusted partner for manufacturers who demand cost and application efficiencies, plus proven performance. In fact, PPG has solutions in our liquid product portfolio that can meet many OEM and architectural performance specifications around the world.
Backed by one of the world's largest color libraries and expert color styling, PPG liquid coatings are available in a broad array of customizable colors, including solids, micas and metallics.
Available in alkyd, urethane, epoxy, acrylic and polyvinylidene fluoride (PVDF) formulations, these resilient coatings can be applied using a variety of methods to meet our customers' application needs.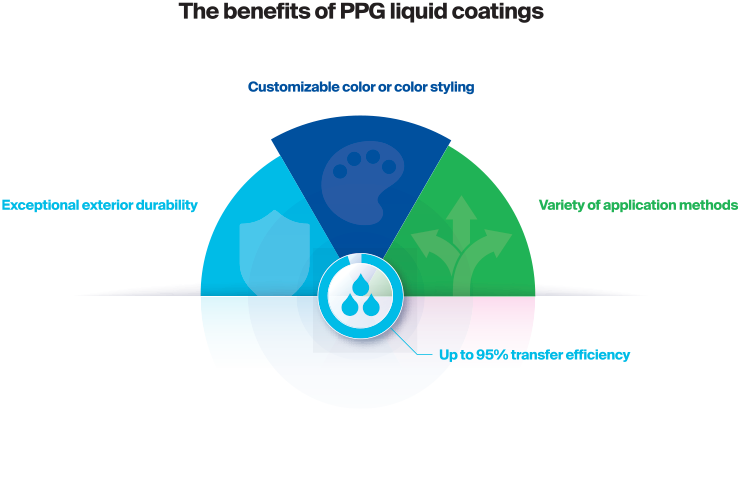 PPG SPECTRACRON® VRP Liquid

A very robust platform, Spectracron VRP 2K epoxy primer provides corrosion protection over a variety of substrates and conditions. Available in a variety of colors, this technology allows for flexible and efficient OEM application on an assortment of substrates.

PPG DURANAR® Liquid Coatings

Duranar liquid extrusion and coil coatings are available in a vibrant palette of solid, metallic and mica formulations that add exceptional durability to architectural metals. One of the most trusted architectural products, these coatings have protected buildings of distinction around the world for over 50 years.

PPG SPECTRACRON® Ultra-Durable Monocoat

Spectracron UDM is a one-component carbamate acrylic coating technology designed to bring exceptional durability to the steel wheel market without having to apply a clearcoat. This coating is available in solid and metallic colors with a wide gloss range for customizable finishes.

PPG AQUACRON® 880 Liquid Coatings

The Aquacron 880 series of water-reducible alkyd topcoats create a smooth, fast-drying, hard finish that delivers strong exterior protection for your equipment and machinery. These water-based products are an excellent choice for applications where flammability and solvent exposure issues are critical.